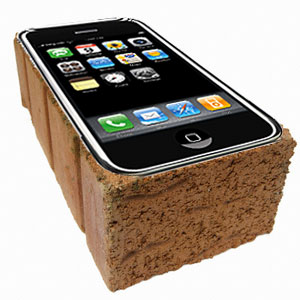 Punters looking to use their shiny new iPhones on different networks might want to think again after Apple released a statement warning that unlocked phones will "most likely" become "permanently inoperable"
Although iPhones are currently exclusively tied into AT&T's network in the States (and O2 in the UK), several unofficial hacks swiftly appeared on the web offering to unlock the phones to work on any network.

Several sources confirmed that these hacks were successful, with the unlocking software becoming freely available over the Internet.
With Apple reportedly taking a hefty cut from the iPhone revenues of their network operator partners (rumoured to be as high as 40% for O2 in the UK), the company has reacted by suggesting that their next software update will most likely leave the owners of unlocked phones with shiny bricks in their hand.
Moreover, the company added that any unlocked phones borked by this update won't be covered under warranty either.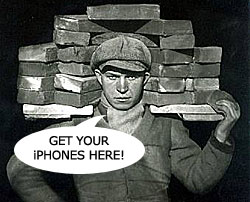 "Apple strongly discourages users from installing unauthorized unlocking programs on their iPhones. There are a number of unlocking software programs on the Internet, and, at least two of them, iUnlock and Anysim, can cause the iPhone to stop working once its software is updated," said Phil Schiller, Apple's head of worldwide product.
Of course, we won't know for sure whether all this is just empty bluster from Apple or if they have indeed engineered the software to trash unlocked phones, but if they do deliver on their threats we imagine there'll be some deeply unchuffed fanboys around later this week.
Here's Apple's full statement:
CUPERTINO, Calif., Sept. 24 /PRNewswire-FirstCall/ — Apple has discovered that many of the unauthorized iPhone unlocking programs available on the Internet cause irreparable damage to the iPhone's software, which will likely result in the modified iPhone becoming permanently inoperable when a future Apple-supplied iPhone software update is installed.
Apple plans to release the next iPhone software update, containing many new features including the iTunes Wi-Fi Music Store (www.itunes.com), later this week.
Apple strongly discourages users from installing unauthorized unlocking programs on their iPhones. Users who make unauthorized modifications to the software on their iPhone violate their iPhone software license agreement and void their warranty. The permanent inability to use an iPhone due to installing unlocking software is not covered under the iPhone's warranty.