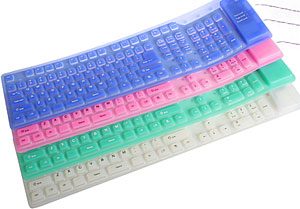 We're not sure if we'd recommend typing on one of these if you've just ingested some high quality magic mushrooms, but Brando's Flexible Illuminated Full Sized Keyboard sure looks a load of fun if you like pretty lights.

Glowing a funky blue colour and available in four colours, your tatty bedroom will instantly be transformed into a sci-fi scene from Tron, with the bendy, twisty silicone keyboard lighting up like a high-tech Christmas tree.
Compulsive tea spillers will be happy to learn that the blue glowing beastie offers water resistance and dustproof qualities, with the makers describing it as, "strong, silent and indestructible."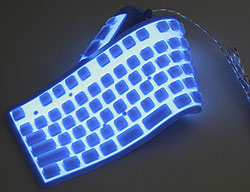 To quite literally illustrate the point, Brando included a dramatic picture of a post-tea-spilling incident, showing the unpleasant aftermath of a Winnie The Pooh branded mug shedding its load over the keyboard. Sharp eyed readers will note that the keyboard continues to defiantly glow blue, despite the fearsome tea-based assault.
The roll-up, full sized keyboard looks positively ridiculous to our eyes and we reckon that the blue glow would soon send your eyes crazy after a few hours work concentrating on an important presentation. But we still like it, in a funny way.
Priced at a low end $27, the keyboard is available from Brando's gizmo-laden website: http://usb.brando.com.hk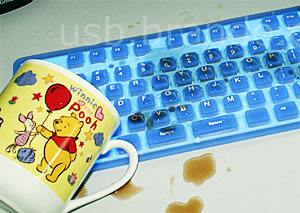 Features:
– Virtually indestructible
– Strong and silent
– Washable and hygienic
– Portable and storable
– Dust-proof and water-resistant
– EL illumination on/off
– Lightweight, ultra-slim and compact
– Size: 49×13 mm
– Weight: 335g
System Requirements:
Windows 98/2000/Me/XP
Available USB or PS2 Port
Package Contents:
Flexible Illuminated Full Size Keyboard
PS2 Adapter
User Manual