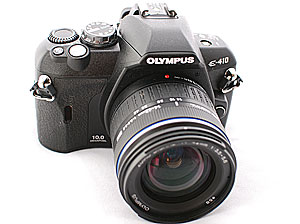 In this final part of the Olympus Evolt E-410 Digital SLR Camera Review we look at image quality and give you our conclusion.
Image quality
Straight out of the box and set to auto, results were pretty good, although we found the camera had a propensity to over-expose in high contrast scenes with bright sunshine and shade (curiously, other reviewers found that the Olympus under-exposed, something we only encountered a couple of times).

Using the auto-bracketing function ensured good exposures, although we found that switching to spot metering and fiddling with the exposure compensation control gave us the results we wanted.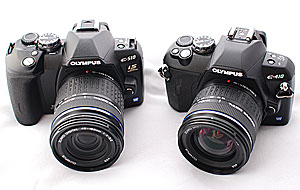 Photos were punchy, with noise levels kept low at the expense of some softness brought on by the noise filter. Turning the thing off (or setting it to low) improved things dramatically, as did turning the sharpness down to -2.
As you stray into higher ISO settings you'll definitely need to reactivate the noise filter, which did a pretty good job of controlling noise right up to 800ISO.
Overall verdict
Seeing as we cut our photographic teeth with an Olympus OM10 SLR film camera before moving on to an OM2n and OM4, we were quite excited to see how a digital Olympus would shape up.
The E-410's retro shape helped whip up the nostalgia and expectations and we weren't disappointed.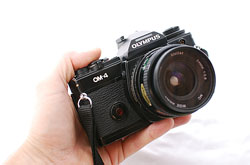 Just like its trail-blazing budget OM10 film cousin, the E-410's body design felt great in the hand and proved a great introduction to SLR photography.
Apart from our low light niggles, we found the camera fast, responsive and a pleasure to use.
Shutter lag was very low and with features like auto bracketing, mirror lock-up, RAW+JPEG options, Live View and the built in sensor cleaning, the E-410 represents excellent value.
With its ultra-compact size, good handling, slew of well-explained scene modes and easy-to-use interface, we could forgive the camera's rather squinty viewfinder, and have no problem recommending this as a great choice for beginners and enthusiasts on a budget.
UK Price cuts (Sept 2007)
The E-410 now represents even better value with the recent announcement of a £50 cashback deal from Olympus.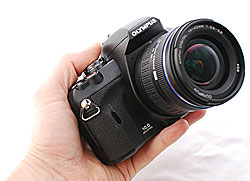 The new pricing will see the E-410 being made available for under £400 for the body only, under £450 for the standard single-lens kit and under £550 for the twin-lens kit.
More details here: www.olympus.co.uk/cashback
Pros:
Great photo quality (after a bit of tweaking)
Delightfully compact and well built
Live view and dust reduction system
Loads of scene modes and manual options
RAW support
Pretty nippy performer
Cons:
xD card support – SD would be better
Some exposure issues
No AF focus lamp
Low light focussing a bit flaky
Live View still not as polished as it could be
Our verdict
Ease of use: 80%
Build: 77%
Features: 79%
Image quality: 76%
Performance (speed) 80%
Value for money: 85%
Overall: 78%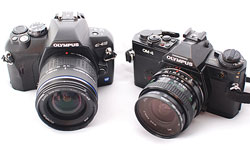 Specifications:
Body material Plastic
Sensor 4/3 type Live MOS sensor, 10.0 million effective pixels,
RGB (Primary) colour filter array, Fixed low pass filter (anti-alias filter)
Dust suppression Supersonic Wave Filter
Image processor TruePic III
Image sizes 3648 x 2736
3200 x 2400 (3:2)
2560 x 1920
1600 x 1200
1280 x 960
1024 x 768
640 x 480
File formats RAW, RAW + JPEG, JPEG (EXIF 2.2) – (1/2.7 SHQ, 1/4 HQ, 1/8 or 1/12 SQ)
Lenses 4/3 standard lens mount (Multiply focal length by 2 for 35 mm equiv. FOV)
Auto focus 3-point TTL phase difference detection
Detection range: 0 to 19 EV (ISO 100)
Available in Live View
Focus area selection Automatic, Manual
Focus modes Single shot AF, Single shot AF + MF, Continuous AF, Manual focus
Manual focus Focus by wire
AF assist lamp Flash strobe (only
Shooting modes Auto
Program AE (with shift)
Aperture priority AE
Shutter priority AE
Manual
Portrait
Landscape
Macro
Sports
Night Scene & Portrait
Scene
Additional scene modes Beach and Snow
Candle
Children
Documents
Fireworks
High Key
Image Stabilisation Mode
Landscape
Landscape & Portrait
Low Key
Macro
Nature Macro
Night Scene
Night Scene & Portrait
Portrait
Sports
Sunset
Underwater Macro
Underwater Wide
Sensitivity
Auto (ISO 100 – 1600)
ISO 100
ISO 200
ISO 400
ISO 800
ISO 1600
Metering system 49-zone multi-pattern
Range: 1 to 20 EV (50 mm F2, ISO 100)
Metering modes Digital ESP, Centre-Weighted Average, Spot, Highlight based spot, Shadow based spot
AE Lock AE/AF lock button, With shutter release half-press
AE Bracketing 3 frames, 1/3, 1/2, 0.7 or 1.0 EV steps
Exposure steps 1/3, 1/2 or 1.0 EV
Exposure compensation. -5.0 to +5.0 EV, 1/3 EV steps
Shutter speed 60 – 1/4000 sec
White balance Auto
Overcast
Shade
Tungsten
Sunlight
Fluorescent 1
Fluorescent 2
Fluorescent 3
Manual 'one-touch'
Kelvin (3000 – 7500 K, 7 steps)
WB fine tuning Red – Blue: +/- 7 steps (2 mired each)
Green – Magenta: +/- 7 steps (2 mired each)
Colour space sRGB, Adobe RGB
Image parameters Colour mode (Natural, Vivid, Muted)
Saturation (5 levels)
Contrast (5 levels)
Sharpness (5 levels)
Monochrome (B&W, Sepia, Red, Green, Blue) – filter (Ye, Or, Re, Gr)
Gradation (High Key, Normal, Low Key)
Drive modes Single, Continuous
Continuous 3.0 fps, JPEG: Unlimited at HQ quality, RAW: 7 frames maximum
Self-timer 2 sec, 12 sec
Flash Pop-up
TTL auto / manual
Guide no. 10
1/180 sec X-sync speed
Sync modes: Auto, Red-eye reduction, Slow syncro with red-eye reduction,
Slow syncro, 2nd curtain slow syncro, Fill-in, Off
Flash power: Up to +/- 2EV in 1, 1/2, or 1/3 EV steps
External flash Hot shoe
Viewfinder Eye-level optical single-lens
Field of view 95%
Magnification 0.92x with a 50mm lens and -1 dioptre
Eye point 16 mm at -1 dioptre
Dioptre adjustment -3 to +1 dioptre
Focusing screen: Fixed type (Neo Lumi-Micron Mat Screen)
Mirror: Quick return mirror
DOF preview: press left arrow button
Viewfinder info AF frame (super impose)
AE lock
AF confirmation mark
Metering mode
Exposure mode
Shutter speed
Aperture value
White balance
Exposure compensation value indicator
Flash
Battery check
Record mode
Number of storable still pictures
Orientation sensor Yes
LCD monitor 2.5″ TFT LCD monitor, 215,000 pixels, Live View available
Playback functions Single
Magnify (2 – 14x)
Index (4, 9, 16, 25 frames)
Calendar view
Rotation
Light box view
Slide show
Histogram (Lum / RGB)
Highlight & Shadow point warning
Playback information Exposure mode
Metering mode
Shutter speed
Aperture value
Exposure compensation level
ISO
Colour space
White balance mode
White balance compensation level
Focal length
Focus area
File type
Picture mode
File name
Image size
Recorded card type
Editing RAW development, JPEG editing (B&W, Sepia, Red eye reduction, Colour saturation, Resize)
Storage Compact Flash (Type I and II), xD Picture card
Connectivity USB 2.0 (Hi Speed)
Video Out (NTSC / PAL)
Power Lithium-Ion rechargeable
Dimensions 130 x 91 x 53 mm (5.1 x 3.6 x 2.1 in)
Weight (no batt) 375 g (13.2 oz), Weight (inc batt) 435 g (15.3 oz)
Price:
E-410 body only – US: $699
E-410 + 14-42 mm lens – US: $799
E-410 + 14-42 mm + 40-150 mm lenses – US: $ 899