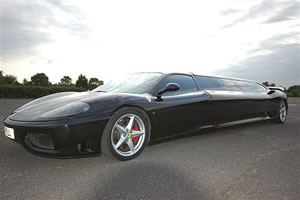 A Ferrari 360 Modena has been turned into a Ferrari Limousine with huge 110″ motorised gull wings doors, eight seats and capable of 170mph.
Moving away from the normal stretched limo with neon-drenched bar and tacky accessories, this baby goes for the stripped-down approach.

The stretch contains only the carbon fibre seats, complete with five-point harnesses and monitors so those contained with can watch what's going on at the front and rear of the vehicle.
The conversion has been carried out by Carbonyte in the UK and as you'd expect, the original cutting of the Modena into two is done with quite some care, as you cen see form the video below.
Once you've got the background on how it was done, take a look at the cars owner, Dan and how the project came about, as well as seeing the bonkers motor. Most bizarre is seeing the stretched black beauty driving around on grass!