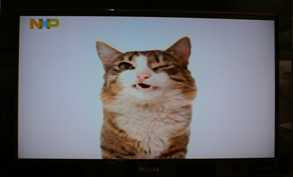 NXP have had a Set Top Box (STB) playing Flash for quite a few years now. They've moved this on now play Flash videos, enabling them to support YouTube and other Internet video services without the need for a separate computer – and from the comfort of the sofa.

The upshot is YouTube videos playing straight to your TV, a la Apple TV.
We talked to Boris about the development (listen below).
[audio:https://digital-lifestyles.info/media/audio/YouTube demo on STB.mp3]
Interesting Interface
Not content to just play the videos, the NXP bods in the labs have been experimenting with different interfaces to get access to the videos.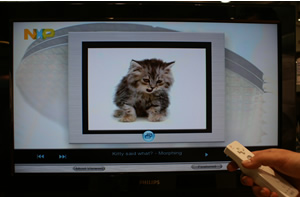 You'll see from the video below that a selection of videos have been pulled together into a single screen.
The YouTube API has been used, but NXP were keen to stress that any video service with an API could be used.
Running thumbnails of the videos float around on the screen, tempting the viewer to dive in and have a look at them.
All of this using gestures on a Nintendo WiiMote.
Once a video is selected, pressing a button on the WiiMote plays the video taking about half the screen. Then there's an option to expand this video to run full screen.
What's Next?
They're looking forward to the end of the current exclusive deal between YouTube and Apple, so they can start publicly supporting YouTube videos playing back in H.264. They've had the capability for quite some time.