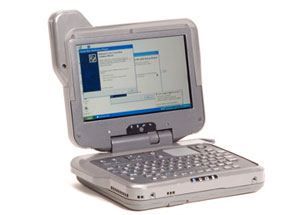 Designed for rugged outdoor blokes with lantern jaws and a taste for adventure, the launch of the General Dynamics Itronix "ultra-mobile" PC has been announced for us Europe types.

The fully-featured, extra rugged computer with looks only a mother could love seems tough enough to survive a kick about in the park, and measures up at 4.3 inches by 6 inches and weighs two-pounds.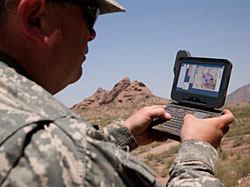 Lurking inside its tough-guy, manly-grey two-tone exterior is a rather girly-sized 5.6-inch touchscreen, with battery life rated at 3-6 hours (without radios), with "battery management power saver utility and ultra-fast battery charging capability."
The laptop runs a full version of Windows XP Pro, with a Vista option to be made available by the end of the year, and sports a 1.2 GHz Intel Core Solo U1400 processor, a 533 MHz FSB, 2MB L2 Cache, 512 MB memory (up to 1 GB).
Storage comes in the shape of a 40GB hard drive "with standard heater", and there's also optional 80GB and SSD (Solid State Drive) flavours.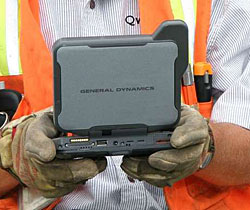 The GoBook packs shock-mounted internal parts, impact absorbing bumpers and is able to withstand extremes of temperature. There's also a sealed keyboard for keeping out the dust and humidity, and the little tough guy complies with some HazLoc (hazardous locations) standards.
There's a fair bit of functionality built into its beefy form factor, with the machine offering WLAN, Bluetooth, GPS, 3G, an optional fingerprint reader and a removable hard drive.
Tough, mean and durable enough to happily hang out in industrial, commercial, military and government environments, the GoBook MR-1 base configuration will set you back a pricey £2,618, with a commercial release expected this month.