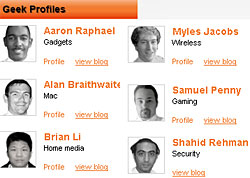 You probably know the feeling. It's 4am, there's a vital deadline approaching in the morning, your PC's just gone on the blink and that techie mate that you normally rely on to help you out has fallen asleep in a pool of lager.
Normally, your only option is to break out the booze cabinet and drink the deadline away, but there is now another option.

The people behind Geek Squad have lunched a 'MyGeek subscription service' which offers to remotely log on to your PC and try and fix the problem.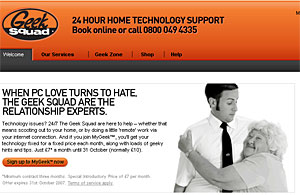 Billed as "your home IT department," the service gives you telephone access to a coke-drinking, comic reading geek who can take over your mouse (if needed) via your internet connection and try and sort out your ailing PC, all for £7 a month.
The monthly subscription service (min 3 month contract) includes 24/7 "no hassle" phone support and discounted home visits, charged at £90 instead of £120 a pop.
The service is limited to consumers with a maximum of two PCs per household, but you're out of luck if your RAM has just blown up or your graphics card has decided to glow solar red, because the subscription fee doesn't cover hardware maintenance and repair.
The company also provide 'one off' fixes like advanced diagnostic and repair for £80, PC Optimisation for £25 and wireless network set up and security check for £25.