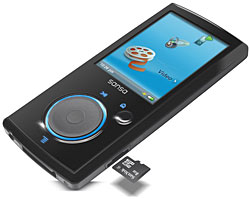 For those music lovers not currently worshiping at the shiny altar of Steve Jobs and the Church of the iPod, Sandisk's new widescreen flash-based portable media player might just be the ticket.
Thinner than a pencil and with a clickable scroll wheel controller that glows a rather pleasing blue, the Sansa View comes in 8GB and 16GB versions and keep you stocked up in mobile tuneage for a healthy 30 hours of tunes (or 7 hours of video).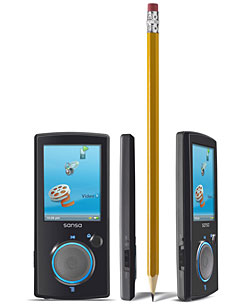 Dominating the front is the 2.4-inches colour display, offering a none-too-squinty 320 x 240 pixels resolution for watching MPEG4, WMV, and h.264 videos.
Conveniently, there's a microSD slot on board to let you boost file storage by another 8GB, as well as an FM radio (why Apple keep shunning a built in radio on their iPods is beyond us – for news junkies, hardcore Archers followers and footie fans, an onboard radio is a massive plus point).
Also on board is an integrated digital voice recorder, with the music playing supporting playback of MP3, WMA, and WAV audio files.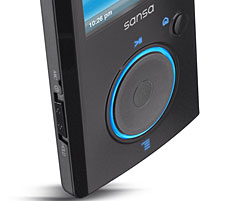 The SanDisk Sansa View is expected to start shimmying on to shop shelves in October, with the 8GB model retailing for $149.99 and the 16GB model going for $200.
We've got a horrible feeling that Sansa are going to charge the equivalent in pounds for the UK release, but the competitive US pricing certainly puts the pressure on the Apple Nano.