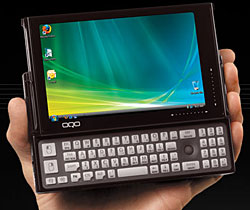 The weirdly named OQO Inc – makers of 'model 02', the world's teeniest ultra mobile PC (UMPC) running Windows Vista and packing 3G mobile broadband – have announced some updates to their flagship diddy-model.
The cheeky little puppy of a PC weighs just one pound, and comes with a 5″ sliding WVGA LCD screen, integrated thumb keyboard and track stick.

Maximum storage has been upped to 120GB hard disk for their top of the range number, with the entry-level PC offering a more modest 40GB.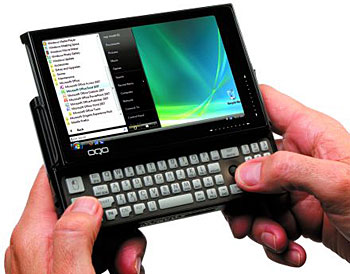 OQO also now produce a flash- based version of their pint sized PC, touting a 32GB solid state drive which the company claims can deliver "up to 50% faster boot and application launch times," along with an improved battery life and better data protection.
Inside, the tiny micro mice are going even faster, with the updated model delivering nippier CPU speeds of up to 1.6GHz, another industry first in a UMPC, apparently.
EV-DO Rev. has been bolted on for higher-speed wireless connectivity from Verizon Wireless or Sprint, with data rates capable of nudging 1.4Mbps, backed by improved upstream speed and lower latency.
Prices have gone down, with the entry-level price for an OQO model 02 reduced by $200 to $1299. Expensive for a lowly spec'ed PC perhaps, but maybe not bad value for such a pocket rocket.
Here's ol' Bob Rosin (OQO senior vice president of marketing & alliances) in a self-created PR dust-storm, "With today's announcement, OQO further extends its lead in the fast-growing UMPC category. OQO created the UMPC and our new products offer performance, wireless and storage options that further advance our vision of anytime/anywhere access to information, applications, corporate networks and the full PC internet."
The updated OQO model 02 can be ordered now at www.oqo.com/store