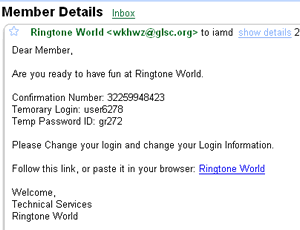 We've recieved quite a few of what appears to be a new type of spam – and possibly phishing – email.
Starting "Dear Member", the mail tries to trick you into thinking that you've registered for some sort of service – Ringtone World, Pet World, Poker World, you get the idea.

The mail give you the username that you 'registered' with along with a password and a link to the site so you can enjoy the pleasure.
Clearly we haven't clicked on the links – which are all IP-only addresses like 85.94.142.191 – as that would be rather foolish.
We suppose that they're hoping that lots of people are use their PC in the evening, drunk out of the minds, registering for all sorts of strange sites.
These ones will be pretty card for a spam filter to detect and whisk from your site, so a word to the wise, just delete them if they hit your inbox.