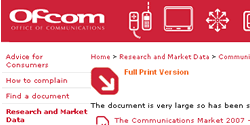 Today Ofcom have released their yearly Communications Market report, covering fixed and mobile telecoms, TV, radio and Internet use.
It's a massive collection of information and statistics running to 332 pages, covering the habits and preferences of the UK population during 2006.

In terms of what people are spending their time doing, the summary is that things are getting better for the Internet and mobile phone worlds, and getting worse for everyone else.
The Losers
While the amount of time spent watching TV still dominates people lives, at frightening 3 hours 36 minutes a day, it's down 4% on last year.
Don't forget these figures are averages. I for example don't watch any TV, so someone else in the UK must be watching a heck of a lot to bring the average to around 3.5 hours.
Radio is down 2% to 2 hours and 50 minutes and fixed line phone usage is down 8% to 7 minutes.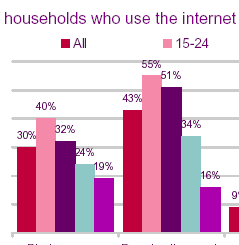 The Winners
Daily home Internet usage is up, at a surprisingly low 36 minutes. Direct comparison with the figures from the 2006 report are not possible due to the source of the information changing, but Ofcom say that Internet usage compared with 2002 is 158%.
It will surprise no-one that time spent on a mobile phone has increased. What will surprise many is that it has now only reached 4 minutes.
These Reports Will Get Harder
Keeping all of these different areas in neat boxes – like how will they split out when people are accessing their favourite personal Web sites via their works mobile phone, in work time. Quite how Ofcom will deal with these situations is unclear.