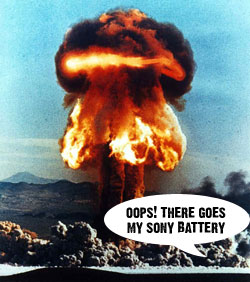 Japanese experts have warned that the fundamental technology behind lithium-ion cells – the batteries that currently power most laptops and mobile phones – is inherently iffy and the design must be changed toot de suite for the safety of consumers.
Professor Masataka Wakihara of the Tokyo Institute of Technology – who has the unusual job of advising the Japanese Government about battery safety – has said that changes must be made to the manufacturing process to ensure that they are robust enough for everyday use.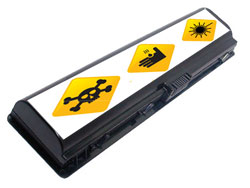 "Battery companies are still learning because the technology is young," Wakihara told The Times. "But there is a fundamental flaw with the way lithium-ion batteries are currently designed and if the companies genuinely care about safety, they need to completely change their production methods. A lithium-ion battery is quite a dangerous little box of energy."
Kuniaki Tatsumi, head of the National Institute of Advanced Industrial Science and Technology's battery research group, backed Wakihara warning that, "companies are less cautious about designing batteries with a focus on safety."
The concerns come hot on the heels of a string of embarrassing, high-profile recalls from the likes of Apple, Dell, Sony, Sanyo and Matsushita (Panasonic).
Sony was forced to recall nearly 10 million batteries in 2006 as a result of overheating fears, while Nokia admitted last week that 46 million batteries in its phone handsets may also be a tad on the dodgy side after a handful of them burst into flames.