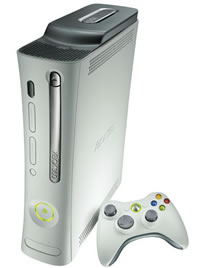 After a pretty long period of speculation, Microsoft have confirmed that they'll be dropping the price of the Xbox 360 in the UK and releasing the Elite version too.
As of this coming Friday (24 August) the entry model Xbox 360 Core will have a retail price of £180 – a £20 drop and the 20GB hard drive 360 will gain a retail price of £250 – a £30 drop.
Filling out the top of the line pricing will be the Xbox 360 Elite, which brings an HDMI video port, wireless controllers, a black finish and 120GB drive – all at £300.