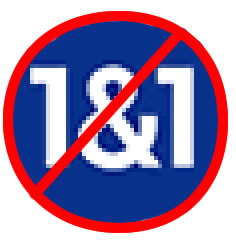 Phew … A huge sigh of relief.
After having suffered under a truly appalling service from the travesty that they call 1&1, we have successfully moved hosting company to Exonetric.
Exonetric are the exact opposite of leviathan 1&1, a small, dedicated team of knowledgeable people who are keen to help out.
The service we experienced with 1&1 is, with no exaggeration, the worst we have ever come across in over 20+ years of experience. They're driven by answering your query as quickly as they can, without bothering to read what the query was in the first place.

If you were lucky enough to get to second-level support, the quality did improve, unless you happened across someone who was having a bad day, in which case they'd be just as awkward as they could, blocking you from a solution.
We point out all of the above to 1&1 quite a number of times and were met with absolutely no improvement.
If you're thinking of hosting with 1&1, I would whole heartedly suggest that you reconsider.
On the positive side
We've got some beefy servers installed now and a dedicated team behind making it work just as quickly as it can.
Serving times should be _significantly_ improved, letting us show our readers the kind of service that they deserve.
Welcome to a new, faster Digital-Lifestyles!