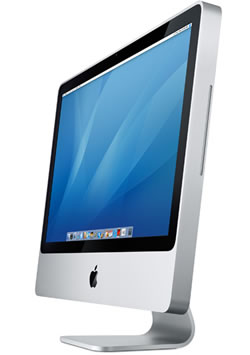 It looks like Apple has done it again, this time with their latest incarnation of the iMac.
Apple has stuck with the same format for the last few generations of iMac – everything in the screen, sitting on a stand – clearly reducing the bulk of the case with each iteration.
As components become more integrated, so the depth of the screen becomes slimmer. This time they've use the old trick of keeping the side of it thin, had have the back on it expanding deeper.
It looks very good on it.

Coming in two versions, the 20 and 24 inch (they've dropped the 17″), the screen has a boundary of black glass surrounding it which performs that same function of a black photo around a photo – to enhance the eyes appreciation of it.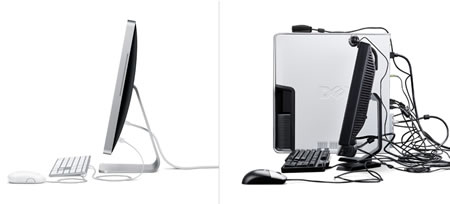 What's built in?
There's an iSight camera at the top of the monitor and a superdrive on the right hand side. A bundle of 3 USB ports, Firewire 400 and 800 ports on the back.
Processor-wise there's a 2.0GHz or 2.4GHz Intel Core 2 Duo processor on the 20-inch, with the 2.4GHz as standard on the 24″ model. A 2.8GHz Intel Core 2 Extreme processor, can be fitted as an option.
The 2.4GHz-equipped machines have the bigger and beefier ATI Radeon HD 2600 PRO graphics processor
with 256MB of GDDR3 memory onboard. The 2.0GHz comes with Radeon HD 2400 XT and 128Mb.

Recyclability is a big part of the design, somewhat radical for a US company. Apple claim that the front glass is recyclable as is the aluminium.
The usual suite of software that comes with the Macs has also been upgraded with most of the packages getting a '08 suffix.
It appears that iMovie has had the most radical changes, with workflow being made easier – and adding an export to YouTube facility, straight from the menu.
The .Mac online service has also been boosted from 1GB of storage to 10GB, for $99/year.
Prices starts impressively low at $1199 (20″, 2.0GHz) (£799); rising $1499 (20″, 2.4GHz) (£949); $1,799 (24″, 2.4GHz) (£1,149), topping out at $2,299 (24″, 2.8GHz) (£1,459).
Apple are going to gain a lot of followers with the bottom end machine – well, at the US prices anyway.