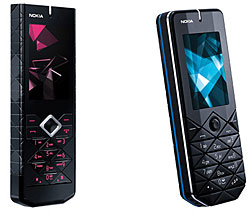 Straight out of the we're just soooo ker-ay-zee school of phone design comes Nokia's new "Prism" fashion handset collection which is now ready to launch in Europe.
Already to be seen amongst the fashionistas of China, the tres quirky Prism range comprises of two handsets, the top-of-the-range 7900 and its (ahem) "quirky sibling," the cheaper 7500.

Both offer dual band 3G technology and quad band GSM capability, an onboard 2-megapixel camera, (supplied) 512Mb MicroSD card, 1GB of internal memory packed into a weirdo design.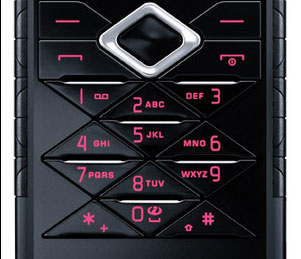 Looking as usable as a chocolate fireguard, the bizarre keyboard comes with individual triangular shaped keys, with Nokia describing the Prism as being created in cutting-edge colours, materials and graphics.
Serving up a feast of sharp angled lines, geometric patterns and graphic light-refracting colours, the Nokia 7900 Prism grooves its way around town in a shiny liquorice-black colour scheme with a coin-stamped (wha'?) and laser-etched anodised aluminum backcover.
The display uses the new fangled OLED technology, supports up to 16 million colours and offers up a "living wallpaper", which changes by the time of the day and by battery and signal strength.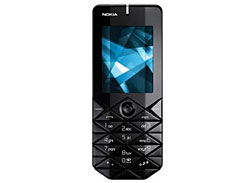 As if that wasn't enough eye candy to keep you amused, the 7900 Prism can also entertain bored minds with 49 different backlit colours on the keyboard, with further lights notifying users of missed calls and messages.
The phones should be ready to please Toblerone fans in Europe in the third quarter of 2007, priced at around £275 (pre- tax) for the Nokia 7900 Prism, and around £140 for its wee bairn, the Nokia 7500 Prism.