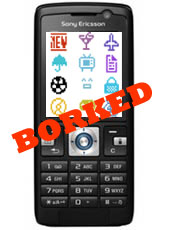 The UK's number one mobile company O2 has dumped its flagship i-mode mobile Internet service after failing to attract enough customers – just two years after launching the service.
The 'umbling turnaround came about after the company revealed that it had only managed to woo 546,000 customers to sign up to their i-mode service in the UK and Ireland. That may sound quite a respectable figure, but it only adds up to just 3 per cent of their 18 million customer base.

O2's i-mode was positioned as a central part of the company's strategy to get punters using lucrative data services on their mobiles rather than just calling and texting, and offered tailored Internet services like weather forecasts, cinema ticket bookings and news.
Created by the Japanese telecoms giant NTT DoCoMo, i-mode was already a massive hit in Japan, boasting more than 45 million subscribers — prompting O2 to press the flesh and do a deal with the company to offer the same service in the UK.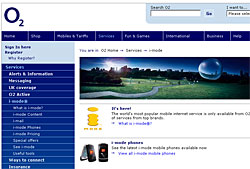 Blame the handsets
O2 was quick to point an accusing finger at the lack of suitable handsets, claiming in a statement that, "a limited range of devices has restricted its growth and we don't see that changing."
Others have been quick to point out that O2's problems had very little to do with the supposed shortcomings of handsets but their hugely inflated data charges and their insistence on making users surf their own 'mini-Internet.'
After all, rivals like Orange and T-Mobile don't seem to have had much problem getting people to sign up to their cheap unlimited data deals. Once signed up, mobile users can freely surf the 'real' Internet using phone browsers like Blazer and Opera Mobile which automatically optimise web pages for the small screen.
If anyone's still using the i-mode service, O2 have said that it will die a slow death and finally pack up for good in July 2009.