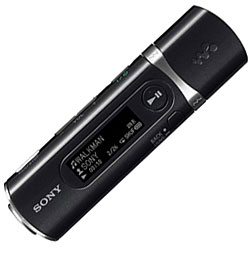 Sony has announced a rather snazzy looking range of stick MP3 players that do away with the need to transfer tunes with their much-maligned SonicStage desktop software.
With the new ATRAC-free NWD-B100 Series players, users can simply drag and drop music straight from their desktop PCs to the pencil thin, 30-gram player.

Coming up in 1GB or 2GB flavours, the player will automatically rummage through the "My Music" folder on user's PCs and copy across any MP3 and WMA files it finds, as well as monitoring the folder for new tracks to upload.
Even better, the NWD-B100 players can also plug straight into a user's micro hi-fi or mini audio system and record songs straight off their CD collection.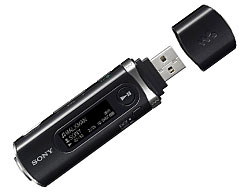 Coming in two chrome colours, black and white, the NWD-B100 offers a three line colour LCD display and lets users search for tracks via File/Folder or Song/Album/Artist name.
There's also a 6-mode equaliser, with the 2GB NWD-B103F/B105F versions adding an onboard FM tuner and built-in microphone and voice recorder.
The players come with a mass-storage mode and can also be charged up via your PCs USB port, with Sony promising a rather underwhelming 12 hours of poptastic listening pleasure per charge.
The WALKMAN NWD-B100 Series will be rocking up to the shores of Blighty this August, with the 1GGB model priced at just £35 (£45 for the 1Gb with radio), with the prices set at £45 and £55 for the 2GB model respectively.