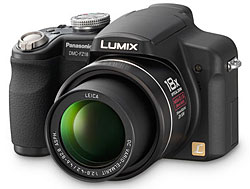 Panasonic has taken the wraps off the the latest model in their FZ superzoom series, the FZ18 which packs an astonishing eighteen times optical zoom.
Sporting a relatively modest 8 megapixel sensor, the SLR-style camera offers an 'Intelligent Auto Mode', Face detection, automatic LCD backlight control and high ISO performance.

The big selling point is the whopping great Leica-sourced lens, which starts at a handy wide angle 28mm and zooms in to a paparazzi-equalling 504 mm (35 mm equivalent) at a fairly bright F2.8 – F4.2.
The camera's 'Intelligent Auto Mode' offers to keep things simple by automatically selecting the most appropriate setting for the scene, with sensors detecting motion, shake, faces and scene and selecting the settings accordingly.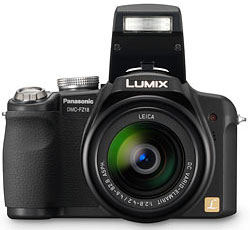 Shooting at the far end of the zoom range is going to make camera shake a real issue, so Panasonic have included their MEGA O.I.S (Optical Image Stabiliser) system and 'Intelligent ISO control system' to detect and suppress motion blur.
The camera comes with manual exposure options and an immense selection of scene modes, some of them bordering on the highly esoteric (Food, Baby 1, Baby 2, Pet, Aerial photo etc).
Powered by Panasonic's Venus Engine III, the FZ18 comes with a 2.5-inch screen and ISO 1600 in normal recording mode. Dropping the resolution down to 3 Megapixels, produces an almighty 28.7x optical zoom.
To keep hands-on photographers happy, there's separate auto focus, auto exposure lock and macro buttons with the redesigned body using the same control joystick as seen in the LX1 compact that we took a bit of a shine to.
The DMC-FZ18 comes with 27 MB of built-in memory, supports the large-capacity SDHC memory cards and measures up at 4.6 by 3 x 3.5 inches, weighing 0.9 lb (with battery).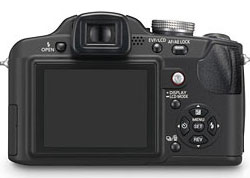 With the price of dSLRs plummeting, this baby needs to be very keenly priced to compete, and at a $400, Panasonic may have just got it right.
After all, it may not be able to match the sheer quality or features of a dSLR, but you'd have to invest a small fortune to match the FZ18's zoom range on a dSLR.
The camera has a US release scheduled for September 2007.
Specifications:
Sensor 1/2.5″ Type CCD, 8.1 million effective pixels
Image sizes 3264 x 2448, 2560 x 1920, 2048 x 1536, 1600 x 1200, 1280 x 960, 640 x 480
3264 x 2176 (3:2), 2560 x 1712 (3:2), 2048 x 1360 (3:2), 3264 x 1840 (16:9), 2560 x 1440 (16:9), 1920 x 1080 (16:9)
Movie clips 640 x 480 @ 30 / 10fps, 320 x 240 @ 30 / 10fps, 848 x 480 @ 30 / 10fps (16:9)
File formats JPEG Exif v2.2, DPOF, QuickTime Motion JPEG
Lens 18x optical zoom, 28 – 504 mm (35 mm equiv), LEICA DC VARIO-ELMARIT F2.8 – F4.2
Image stabilisation MEGA O.I.S. (Mode1 / Mode2)
Conversion lenses Yes
Digital zoom up to 4x
Focus modes AF-Macro On/Off, AF/MF Switchable, Manual Focus(Joystick), One Shot AF, Continuous AF On/Off
Focus distance Normal: 30 cm-infinity (wide) 200 cm – infinity (tele)
Macro: 1 cm-infinity (wide) 200 cm – infinity (tele 6-11x)
Tele Macro (at 12-18x) : 100cm – infinity
AF area modes Face / 1-point / 1-point high speed / 3-point high speed / Multi-point / Spot
AF assist lamp Yes
Metering Intelligent Multiple, Centre-weighted, Spot
ISO sensitivity Auto, ISO 100 – ISO 1600
High Sensitivity mode Auto (ISO 1600 – 6400)
Exposure compensation +/- 2EV in 1/3EV steps
Exposure bracketing +/- 1/3 EV -1EV step, 3 frames
Shutter speed Program AE: 1-1/2000 sec, Aperture Priority AE / Shutter Priority AE: 8-1/2000 sec, Manual: 60-1/2000sec.
Starry Sky Mode: 15, 30, 60sec
Aperture F2.8 – 8 (wide) F3.1 – 8 (tele)
Modes Intelligent AUTO, Program AE, Aperture Priority AE, Shutter Priority AE, Manual, Custom, Portrait mode, Scenery mode, Sports mode, Night portrait mode, Scene, Motion picture, Print, Playback
Scene modes Food, Party, Candle Light, Sunset, High Sensitivity, Baby 1, Baby 2, Pet, Panning, Starry Sky, Fireworks, Beach, Snow, Aerial photo
Advanced scene modes:
Portrait mode: Normal, Soft Skin, Outdoor, Indoor, Creative
Scenery mode: Normal, Nature, Architecture, Creative
Sports mode: Normal, Outdoor, Indoor, Creative
Night Portrait: Night Portrait, Night Scenery, Illuminations, Creative
White balance Auto, Daylight, Cloudy, Shade, Halogen, Flash, White Set 1/2
White balance fine tune 2-axis adjustable, ±9steps each, Blue/Amber and Magenta/Green bias
Self timer 2 or 10sec, 10sec / 3 images
Continuous shooting Full-Resolution: 3 frames/sec or 2 frames/sec max. 7 images (Standard mode), Max. 5 images (Fine Mode)
Image parameters Contrast, Sharpness, Saturation, Noise Reduction – 3 levels (Low, standard, high)
Flash Auto, Auto / Red-eye reduction, Forced On, Forced On / Red-eye Reduction, Slow Sync / Red-eye reduction, Forced Off
Flash output adjustment 1/3EV step, +/-2 EV
Range: 0.3 – 6.0 m (wide) 1.0 – 4.0 m (tele)
Viewfinder 0.44″ Colour EVF (188K Pixels), Field of View : approx. 100%
LCD monitor 2.5-inch Polycrystalline TFT, 207,000 pixels, Auto Power LCD mode, Power LCD mode, High angle mode
Connectivity DC in, AV out, USB
Print compliance PictBridge
Storage SD/SDHC/MMC card
Internal memory (27 MB)
Power Li-ion battery pack, Optional AC adapter
Weight (no batt) 360 g (12.7 oz)
Weight (with batt) 407 g (14.4 oz)
Dimensions 117.6 x 75.3 x 88.2 mm (4.6 x 3.0 x 3.5 in)