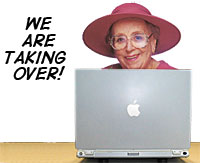 New research has revealed that over two thirds of all European silver surfers use broadband as their main Internet connection and that broadband adoption amongst the old 'uns is growing faster than average European Internet users (26% year on year growth compared to 14%).
According to the research from the European Interactive Advertising Association (EIAA), the growth in broadband penetration is having a big impact on how the old folks are communicating and spending their leisure time, with one in four logging on to the Internet in a typical week. Weekend use was recorded as growing at a rate of 19% year on year.

Silver surfers now spend an average of 8.8 hours online per week – up 18% since 2005 – with the vast majority of their online time (78%) spent doing personal stuff rather than work.
Web 2.0
The old 'uns are also getting down with new fangled Web 2.0 tools, signing up to online forums (up 113% since 2005, with 17% regular visitors), and nearly one in five (18%) hanging out on social networking sites such as MySpace and Bebo at least once a month
That figure isn't lagging that far behind the key 16-34 year old demographic, of which 28% regularly access social networking sites.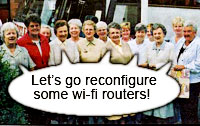 The older generation are also getting wise to the benefits of VoIP, with 14% regularly making calls over t'internet, adding up to a 100% year on year growth.
There's also been growth in silver surfers accessing entertainment online, with 21% listening to online radio, 7% downloading TV programmes and films (40% year on year growth since 2005) and 7% risking their life savings on online gaming.
Travel and holiday sites have also proved hugely popular amongst Ye Olde Surfers, with nearly half using the web to buy travel tickets online and nearly a third buying a holiday online.
A hefty 83% also regularly use email and search the web, with nearly two thirds of silver surfers checking online news sites (61%).
Commenting on the report, Alison Fennah, Executive Director of the EIAA said, "It is interesting to see the effect that increased broadband penetration is having on how silver surfers are communicating and spending their leisure time. There is huge growth in usage of online tools made popular by Web 2.0 and we expect this exponential growth to continue as the Internet plays an even bigger part in the daily lives of this slightly older demographic."