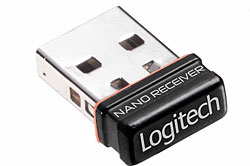 For business travellers fed up with tricky trackpads and piddly pointing sticks, Logitech has launched a new cordless portable mouse called the VX Nano.
Boasting a streamlined design that looks like it was tested in a wind tunnel, the cordless laser mouse comes with a tiny little USB dongle ("the world's smallest USB receiver for mice") that slots into your laptop.

This communicates with the mouse via 2.4Ghz wireless connection, so you won't need Bluetooth on your notebook.
Unlike some of the beastly, bulky dongles we've seen bundled with laptop cordless mouses/meeces/mice/mousi in the past, the Logotech device is so small you could conceivably leave it permanently plugged in when you're packing away your machine, so it'll be one less thing to forget.
"More and more laptop users are abandoning the touch pad in favour of a cordless notebook mouse," insisted Rory Dooley, Logitech senior vice president and general manager of the Control Devices business unit.
"However, with most notebook mice, the size of the receiver forces people to plug and unplug the receiver each time they use the laptop. Because we were able to make the nano-receiver so small, it can remain plugged into the laptop at all times so on-the-go notebook users save valuable time and never have to worry about where the receiver is," he added.
Being a Logitech creation, there's obviously buttons a-plenty – five in total – along with a 'one touch' search button and the super fast scrolling functionality first seen in the company's snazzy MX Revolution mouse last year.
The VX Nano mouse runs on two AAA batteries, and has a neat storage compartment next to the battery holder for storing the nano-receiver.
Priced at an upmarket £50 ($69.99), the VX Nano is set to appear in the U.S. and Europe in late August.