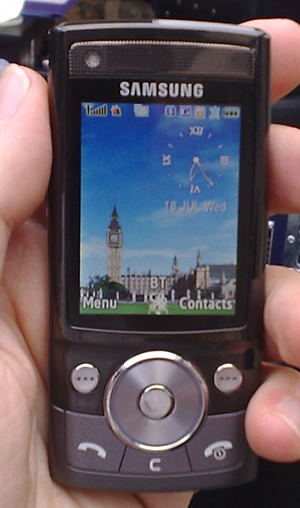 We went to the Global launch of the Samsung G600 in London last night – the first time Samsung has carried out such a launch in the UK.
The phone is quite a looker and the first for Samsung with a 5 Mpx camera built in. To match this, is a great display capable of displaying 16M colours, which should flatter the films you can play on it at 30fps, in MPEG4, WMV and H.264 formats.
The black two-tone sliding handset feels great in the hand, with the sort of heft that conveys quality.

The interface has a lot of details on it, such as when you're in the UK, the handsets wallpaper will automatically changed to a picture of The Houses of Parliament, or when you're in France, it's a scene from Paris. There are also details like birds flying through the sky.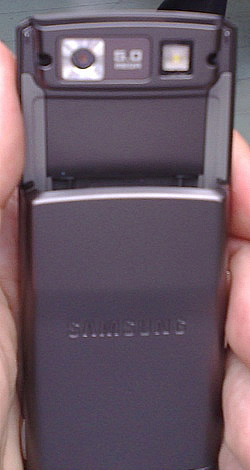 It doesn't stop there, with the quality of the connection to the service provider changing the wallpaper too. Good connection will show clear blue skies, but as connections become worse, more clouds appear.
To make it a sociable handset, there's support for dual Bluetooth headsets, so you and a companion can while away the hours nodding your heads simultaneously to the same tunes. There's also a high-output speaker at the top of the handset, so that teenagers can annoy the hell out of everyone else on the bus/train/park bench.
The Web browsing on it was a full Internet experience, not the half-assed version many phones deliver.
Samsung UK are going to be spending big on this baby, with the advertising campaign being led by a £3m campaign run by Samsung Mobile UK.

Samsung are quoting up to 3.5 hours talk time and up to 300 hours standby.
It's going to be available in the UK from August 2007.