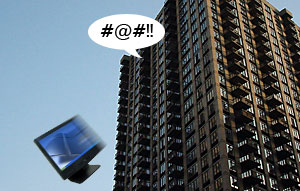 We've shouted at it. We've shaken our fists at it. We've even given it a kick when it starts playing up and sometimes felt like inflicting serious damage on the thing, but we've never gone as far as this particularly aggrieved chap in Hanover, Germany.

According to to a report in Reuters, the spectacularly uptight 51 year old grew so frustrated at his computer that he lobbed the thing out of the window, smashing to pieces when it hit the ground.
The computer went on its unscheduled journey from an apartment block in the middle of the night on Saturday, alarming neighbours who called the police.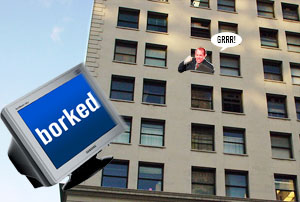 Police officers who arrived at the scene found the street and pavement awash in broken electronic parts and quickly discovered who the culprit was.
Despite technically being liable for disturbing the peace, the German police took a lenient view, with a spokesperson saying, "Who hasn't felt like doing that?"
Once he'd calmed down, the computer-less and, we presume, rather humbled user was instructed to go outside and clear up all the teensy weensy bits of his computer that he'd scattered around the neighbourhood.
Oh, and before you ask, we've no idea what OS he was using.
But I bet you're thinking what we're thinking. :)