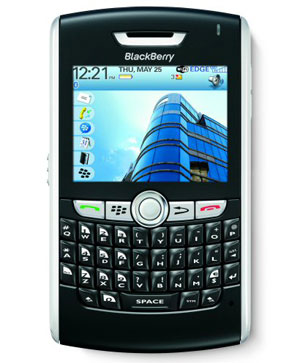 Research In Motion has announced its first ever multi-band phone to pack Wi-Fi, the BlackBerry 8820 Smartphone.
The slinkiest BlackBerry to date, the 8820 offers a good ol' fashioned hardware QWERTY keyboard (we like them), a large 320×240 display, trackball controls, onboard GPS (Global Positioning System)and EDGE/GPRS/GSM cellular and Wi-Fi (802.11 a/b/g) connectivity.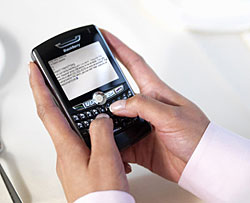 The 8820 can happily talk turkey to the BlackBerry Internet Service and BlackBerry Enterprise Server, while support for UMA means that the BlackBerry 8820 can seamlessly switch voice calls between a wireless carrier's cellular network and a Wi-Fi network.
Keen to lose their stuffy business-only image, the new BlackBerry comes with an updated media player, Bluetooth stereo audio profile (A2DP/AVRCP) support and the bundled desktop Roxio Media Manager for BlackBerry for converting audio and video files for playback on the smartphone.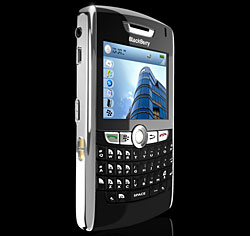 A microSDHC/microSD slot lets users add up to 32GB to the handset (although 32GB cads are yet to hit the market), while Blackberry are keen to point out that unlike the iPhone the 8820 comes with a removable battery.
The phone will be available from select wireless carriers around the world soon. The price is yet to be whispered in our shell likes.