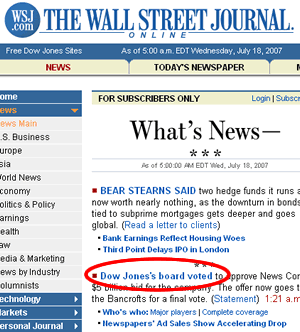 We received a newsflash from the Wall Street Journal (I guess they would be the first to know) at 4:27 this morning that the Dow Jones board had voted in favour of the News Corp take over, with only Leslie Hill, a member of the Bancroft family, and Dieter von Holtzbrinck abstained from the vote.
Christopher Bancroft – who it is understood is actively seeking alternatives to the News Corp. bid – left the meeting early.
It's reported that News Corp. was "grateful" to Dow Jones board for its vote.
News Corp have been trying to get their hands on Dow Jones and the Wall Street Journal, to add to their already large portfolio of highly influential media titles and companies around the world.
The next, and possibly final stage, is for the Bancroft family to approve the boards approval. Given the family has asked for more than $60 per share in the past – the current News Corp offer, valuing the company at $5Bn – it's anyone's guess which way it will go.
There's been considerable concern voiced about how good an idea it is for Rupert Murdoch to be in control of a major force of financial reporting in America.