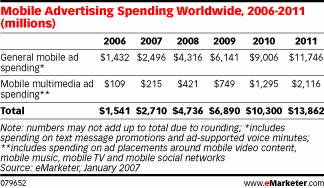 The Telecom and Internet industries are squaring up for a right old fist fight over who rules the consumer mobile search business.
According to market research firm eMarketer, the battle looks set to resemble a full on pub brawl, with telecom carriers, handset makers, publishers, directory and yellow pages outfits, Silicon Valley big boys and a load of start-ups all looking to grab a piece of the mobile search action.

The claims are made in eMarketer's new report, "Mobile Search: Clash of the Titans," with author John du Pre Gauntt commenting that, "Mobile search is a battle to define perhaps the most important new interface with the consumer."
"Whoever cracks the consumer and commercial code for delivering and monetizing relevant answers for people on the go will secure a license to print money, at least for a time," he added.
The report highlights the wildly varying estimates for the mobile search business, with Informa Telecoms & Media predicting a modest $1.5 billion by 2011, while Piper Jaffray expects a cash bonanza with the industry scooping over $11 billion by 2008.
eMarketer's own forecast sees the general mobile ad spending market — including ad spending that supports mobile multimedia — totaling over $13.8 billion globally by 2011, with mobile search expected to account for 16.6% of that total, adding up to $2.4 billion.
"While in absolute terms that figure is not earth-shattering, compared with the online search market, let alone mobile content categories such as messaging, the fact is that mobile search carries with it the promise of radically changing how users access other, far larger content and commerce categories," commented Mr. Gauntt.
"In that sense, the impact of mobile search goes far beyond its specific industry opportunity," he added.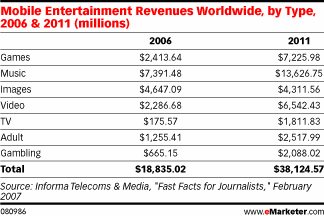 The report observes that investors are going to continue to *heart* mobile because it continues to be one of the most effective platforms for, "connecting marketers to consumers with short-term or immediate purchase intent."
Analysts Informa see global mobile entertainment sales soaring to over $38 billion by 2011, with the figures breaking down to music ($13.6 billion by 2011), mobile video and TV ($8.3 billion) and mobile games ($7.2 billion).
"The days when mobile search need only organize a mobile carrier's content retail store are rapidly drawing to a close," said Mr. Gauntt.
"Too much money, talent and technology are moving into the mobile marketing space to expect that users, let alone advertisers, will stay content to search within the walled gardens that predominate today," he continued.