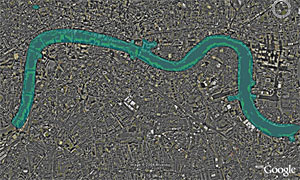 A new Wi-Fi network has been launched in London called Online- 4-free.com, covering around a 13.6 mile stretch of the River Thames, running through the centre of the capital.

The result of a collaboration between Free-hotspot.com and Wi-Fi network infrastructure firm MeshHopper, the scheme sees free Wi-Fi access being offered to businesses and the public from Millbank Pier in central London to Greenwich in southeast London.
But before you start gleefully whipping out your laptops and taking a riverside stroll, there is, as ever, a caveat: users of the service will be compelled to sit through regular adverts to enjoy the freebie connectivity.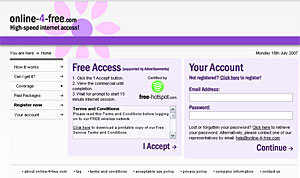 Anyone looking to connect via the free service will have to agree to view an advertisement every 15 minutes, with the adverts being between 15 to 30 seconds in length.
If the thought of all that advertising busting up your surfing pleasure displeases, surfers can choose to pay an hourly fee of £2.95 or $5.95 for a day's access, $7.95 for a week or go for an unlimited access deal of £10/month charge. Daily downloads are limited to 100MB for the free service rising to 2GB for the weekly and monthly packages.
Another twist to tempt your wallets open is that the freebie service chugs along with download speeds of just 256Kbps, while the paid-for service offers a nippier 500Kbps.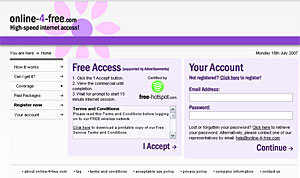 Free-hotspot.com already runs 1,500 networks in buildings and open spaces around Europe, but their new London service is their biggest undertaking to date.
"This really marks the arrival of free Wi-Fi in Greater London," insisted Dan Toomey, CEO of Free-hotspot, adding that, "Millions of Londoners, as well as commuters, visitors and tourists, can now expect to find free Wi-Fi as they work or play along the Thames."
Online-4-free.com currently also provides coverage around Holborn in central London and intends to extend their network to 22.3 miles by next month.