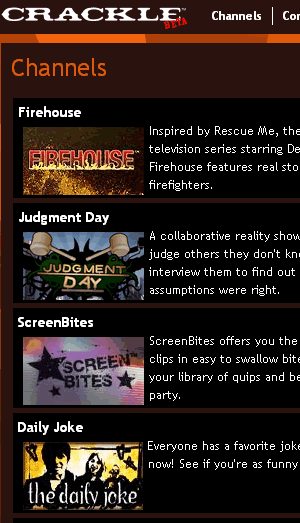 It looks like there's finally some sense coming to the world of User Generated Video Content.
Online video site Grouper, that Sony bought last year for $65m, has bid farewell to trying to compete with the YouTube's of this world.
Grouper has changed its name to Crackle and also change the type of content it will be making available to punters.

One side of this is the creation of Crackle Studios, to fund the development of unique programming. By selecting the content that is well-liked in the Crackle Shorts channel, a quarterly selection of the best will receive funding from Crackle Studios to develop and produce short form material for Crackle distribution.
By way of enticing content makers further (and possibly moving to save the cinema industry), the winners will swan off to the city of Angels to pitch their ideas to creative executives of Columbia Pictures (who just happen to be owner by Sony too).
Advertising, but of course
But of course, advertising has to get its sticky fingers in to the pie.
In the coming months, Crackle's premium channels will be paired with advertising sponsors as well as distinctive 'skins' to create unique branded environments that support the advertiser and genre specific videos. Advertisements will appear on each channel's homepage, in addition to airing within the video player, creating a seamless branded environment within the network.
Why is this interesting?
In this sea of UGC lapping around our ankles, there is a danger of drowning in mediocrity. Sony, via Crackle are attempting to move to the high ground.
It's an expensive place to be, as they will actually be having to fund its creation, rather than just getting all of the content for free – as YouTube, and the majority of its copies currently do.
The advantage to Sony is that it could become a great way of nurturing new talent – that isn't currently on their radar – in a way that is significantly cheaper than their current means.