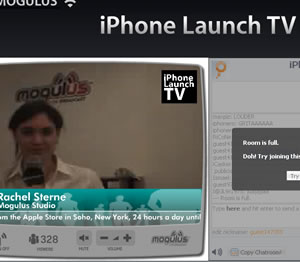 We'll be sooooooooo glad when today is over. This blessed iPhone launch is just getting totally out of control.
The latest daft part of the over-coverage is that Mogulus, providers of online video tools, are running a dedicated iPhone Launch TV channel.
Watch it after the jump

Looks like there's a couple of bods in the Apple Store in SoHo, NY, who are there currently filling in 6 and a half hours before the actual launch.
If you've got Flash player 9 installed (download), you'll be able to immerse yourself in the nonsense and watch
Oooooo!! The latest gossips? Alicia Keys might be buying one of the first iPhones – not that I suspect that she's going ot be queueing for it.