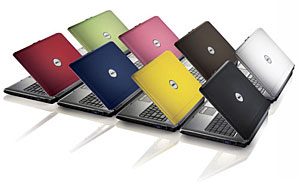 Those crazy cats at Dell have loosened their ties, taken off their suit jackets and kicked back with a new range of funky notebooks designed to show the world that they're not just a bunch of boring business stiffies.

The new laptops will be released under the Inspiron brand name and come in eye-dazzling Sunshine Yellow and Flamingo Pink hues, as well as more muted alpine white, ruby red, jet black, midnight blue and espresso colours.
The world's second-largest personal computer maker hopes that their new range of dazzling laptops – priced at $749 upwards for the entry level version – will prove a hit with consumers.
The laptops will offer screen sizes ranging from 14.1 inches to 17 inches with Bluetooth and Wi-Fi connectivity, with optional mobile broadband and high-definition video add-ons.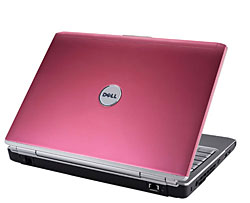 The new 14.1 and 15-inch screen Inspiron notebooks will chug along on Intel Core 2 Duo processors, while the bigger 17 inch model gets an AMD Turion Dual-Core processors running at speeds up to 2.2 GHz, with support for up to 4 GB of memory.
XPS M1330 lappie
Dell also announced what it claims is the "world's thinnest 13.3-inch laptop," with the wafer-thin XPS M1330 being billed as the "ultimate in computing technology" offering an "expression of style".
The wedge-shaped laptop weighs in at 1.8kg and measures just 0.9-inches thick, with a styling that suggests that the odd Sony Vaio may have crossed their designers line of vision on occasion.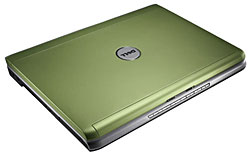 Prices start at around £730 for the no-frills model, with the laptop coming with a 1280×800 pixel screen, optional Nvidia GeForce Go 8400M GS GPU and Intel T7700 Core 2 Duo processor, with a HDMI port for home entertainment fans.
Advertisement
The XPS M1330's magnesium alloy chassis can also be customised with three colour choices: Tuxedo Black, Pearl White and Crimson Red.