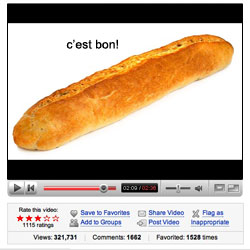 Speculation is growing that YouTube will be launching local versions of their video sharing service for European countries.
The rumours come in the wake of YouTube owners Google announcing a mass herding of top executives in Paris for an international press conference next week.
Elementary
France 24, a French public TV channel, confirmed on Friday that it's been sitting on the chatty sofa and getting chummy with Google, leading pundits to predict that the search engine giant could be lining up local content for its video-sharing service.

With a dramatic flap of the cape and a quick screech on the investigative violin, wannabe Sherlock Holmes's also seized upon the fact that Google's YouTube events calendar has the day of the press conference listed for an unspecified "Paris launch."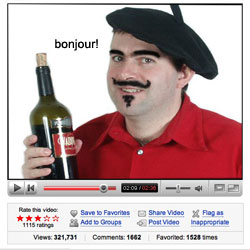 Naturally, Google are keeping Maman about the France 24 talks and local versions of YouTube, but with YouTube already hugely popular in Europe there's clear potential for localised interfaces (the service currently only offers an English language option).
Bob Ivins, MD of comScore Europe, can also see the potential, noting that local language versions with local TV content could make YouTube more competitive against own-language alternatives.
According to comScore's figures, the big baguette of video sites in France is DailyMotion, with 6.6 million unique visitors in April, just ahead of YouTube's 5.8 million.
In Germany, YouTube rules the roost with 7.6 million visitors, a smidgen ahead of their own MyVideo.de video sharing site, while YouTube rules Europe as a whole with a massive 60.6 million visitors, dwarfing second placed DailyMotion's 14.5 million.
Although the figures are impressive, the European market remains heavily fractured and YouTube's total only adds up to around a quarter of the total audience, according to comScore.