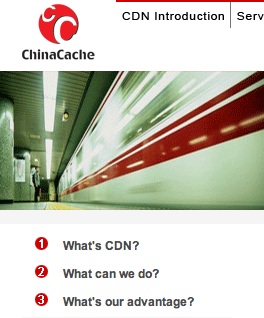 ChinaCache, a Beijing-based provider of Content Delivery Network services, has received an additional $31.5m dollar investment, from Western companies, including Intel Capital, reports the China Daily Newspaper.
They'll be using part of the investment to further expand their current 50-city strong network to cope with the growing demands for audio and video, with the rest of it to purchase competitors to maintain its market position.

Running since 1998, they received a $8.5m investment in 2005 and have grown earning to $10m in 2006, double the previous year.
According to China Daily, they claim a 75% market share and to be the only company providing a CDN across China. Wang Song, the CEO, also claimed that they will "at least quadruple [their] income before 2008."
The investors are clearly looking for a good return on their investments. Richard Xu, CFO said, "We will try to launch an IPO in the US Next Year."
Why does China need a CDN
As we're all being told, China is a market that is exploding for Internet usage. As I found out at the recent WBFA, there are 137 million Internet users in China, with 90m connected via broadband. So demand is large, and growing.
One of the difficulties of having a growing market for broadband is the delivering of the content over a network that currently cannot guarantee the delivery (this will change when IPv6 is taken up). This is particularly relevant to video, which need to be delivered in the right order to make sense.
One way to fix this is using a content delivery network or CDN. Names you might have heard of include the long-running Akamai and relative new comers, Cache Logic.
A name that it's likely that will become more familiar is ChinaCache. You won't be surprised to hear that they're focused on China and sell Caching services.