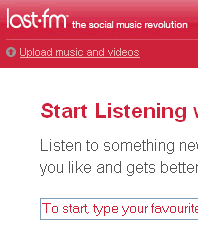 UK music service last.fm has been sold to US media giant CBS, whose empire covers TV, radio and Web.
Last.fm is the darling of the 'new' Internet kids, as it is based on buzzword-tastic technology. While that's true, it doesn't take away from the fact that it is really rather good, using the listen preferences of everyone else on the service to automatically pick the tracks that probably match the music that you like.
Its major strength is that it throws in tracks that you may well have never found under your own volition – vital in a world where personal playlists can kill variety.
At £140m ($280m) the BBC are calling it the "largest-ever UK Web 2.0 acquisition." Quite how that's defined is anyone guess, but it is a lot of lolly, so trebles all round.
One of the founders, Martin Stiksel told the BBC that "this move will really support us to get every track ever recorded and every music video ever made onto Last.fm," quite an ambition, but as he added, "with a strong partner like CBS, this is now within our reach."
It's planned that the site and company will continue to operate separately under it's own branding.
Stiksel also bigged up the UK's capital city, by saying "being in London has helped us; it's the best place to do things with music full stop. It's the place that leads the world." Hurrah!
(Via)