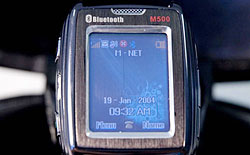 Proudly proclaiming itself as the world's smallest mobile phone, the SMS M500 Watchfone looks to be more than a gimmick, packing in a useful slab of technology in a wristwatch sized package.
Despite its diminutive dimensions, the M500 is a fully fledged quad-band mobile, sporting audio and video player, a touchscreen, Java support, WAP, Bluetooth and SMS and MMS functionality.

Unlike many of the other wristwatch sized gadgets we've seen in the past, this one looks reasonably sleek and relatively ungeeky, although it's still something of a chunky affair.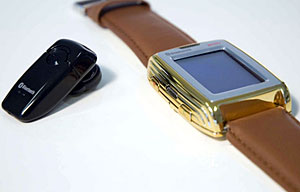 Dominating the front is a 1.5 inch TFT colour touchscreen supporting a 120 x 160 pixel resolution, with onscreen indicators including time and date, Bluetooth status, battery life, call status and reception quality.
If you've got great big porky fingers, there's a handy built in stylus for accessing the onscreen menus, although it sounds like the sort of thing we'd lose within minutes of using the phone.
The phone supports the GSM850/900/1800/1900Mhz (GPRS) bands and comes with voice Bluetooth 2.0 and USB (for data transfer and recharging) connectivity.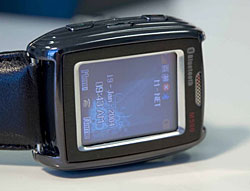 The makers claim full SMS and MMS functionality, although we imagine that typing out anything other than the shortness of notes is going to be something of an ordeal on such a titchy screen.
Multimedia support comes in the shape of AAC/MP3 audio and MP4 video, with the watch offering 128MB of built-in memory (but no memory card slot).
With the watch being such a wee beastie we were expecting a battery life shorter than Torquay's FA Cup winning hopes, but SMS claim that their 400mAh battery can dish out an impressive 200 minutes talk time with a standby time of 80 hours.
The phone is also apparently water resistant too, but we'd be a bit uncomfortable doing the washing up with a phone on our wrist.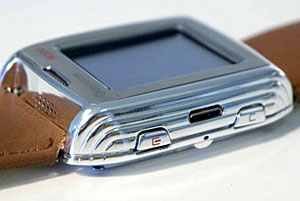 The 60gram phone is expected to ship put of Hong Kong this month with the MSRP said to be around the $820 mark (around £420).
Specification:
:: Model M500 Quad Mode, Touchscreen, Java and WAP enabled
:: Weight: 60g
:: Colour: Silver or Black with Leather Strap
:: Screen: TFT 1.5 – inch colour touchscreen 120 x 160
:: Frequency: GSM850/900/1800/1900Mhz (GPRS), SIM
:: SMS: Full SMS and MMS functionality
:: MP3: Support AAC/MP3 and
:: MP4: Support Video Playing
:: Touchscreen with Built-in Stylus
:: Memory: 128MB Built-in Memory
:: Battery: 400mAh, Talk Time 200 Minutes, Standby Time 80 Hours
:: USB: For Data Transfer and Recharging
:: Bluetooth 2.0