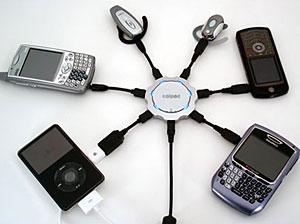 The last time we went away on a business trip, we had to set off with a bag almost overflowing with adapters, lugging no less than five of the ruddy things for our travelling tech kit of a Palm Treo, Ricoh GR, Nikon D80, Vaio lappie and DVD burner.

Offering to rid us of our bulging bag of chargers is the Callpod Chargepod which claims to be able to charge up to 6 devices from a shiny silver central unit.
Like a lot of useful things, the idea's pretty simple: hook up the Chargepod to the mains (or with an optional USB connection), and then plug in your phone, digital camera, MP3 player, PDA, Bluetooth earpiece or other mobile device using the dedicated connectors (bought separately).
A little blue LED lights up to confirm each attached device is charging, with the unit capable of feeding 500mA power output to each port.
There's not enough juice there to charge laptop computers, but the company say that there's a Chargepod v2 product on the horizon capable of delivering the required higher charge.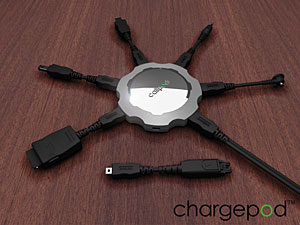 We like the idea of this unit, but the price looks a little steep to our eyes, with the basic unit costing $49.95 plus $9.95 per adapter.
The optional USB adapter comes with a $29.95 slapdown, and the car charger will add another $19.95 kerching at the check out. Add that little lot up and you could end up shelling out a small fortune for the convenience.
Specs
Electrical
Input AC Power 110V AC, 60Hz
Input Charge Power 6V DC – 3A (Via USB Port)
Output Charge Power 500mA each port
Environment
Humidity 5 to 90% Non-Condensing
Operating Temperature -10°C to +50°C
Storage Temperature -10°C to +50°C
Physical
Dimensions 2.75″W [69.85mm] x 2.70″L [68.60mm] x 0.72″H [18.30mm]
Weight 1.12 oz [32g]
User Interface
Number of devices supported 6
Number of LEDs One green power LED, 6 blue charging LEDs