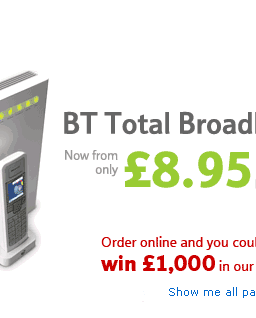 BT are rather pleased with themselves today as they've gained the number one position, as Britain's most popular broadband retailer.
They now got 3.66m broadband customers which, in their words "leapfrogs" them over Virgin Media (NTL/ Telewest as was).
BT are of course running a reduced price scheme for the first six months of sign up – as are Virgin Media. The big difference between the two offers is the entry price – BT £8.95/month and VM £14.99. We would suggest that this has had a major impact in achieving BT's current number one position (as well as buying PlusNet a short while back).
We've just a little, quick maths on the number of BT's subscribers.
There's healthy cash flows for BT in this game. Even taking the customers to be on the lowest package, they'll be clawing in £66m _per month_. This rises to £91m if people are on the highest package.
On a yearly basis that's broadband subscriptions earning for BT of between £792m and 1.092 Billion a year! Don't forget you also _have_ to have a phone line with them to have their broadband, so extra earning there.
Not a bad little business broadband has turned out to be for them really. Makes you wonder why they were so reluctant to get going back in the late '90's/early 2000's.