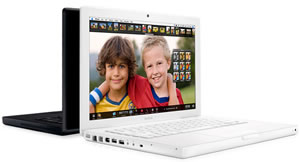 The adage "Everything comes to those who wait" will ring true for punters who have been umming and ahhing about getting a new MacBook.
Apple have announced the rumoured update for the MacBook range, giving them faster Intel Core 2 Duo processors, 1GB of memory and larger hard drives in every model.
Those of us still languishing with iBooks, will have even more reason to finally get around to upgrading to the 1 inch high beauties, especially as the new range now covers the sleek white 2.0 GHz and 2.16 GHz MacBook models, and a mysterious black 2.16 GHz MacBook model. All of them have a 13-inch glossy widescreen display that Apple non-modestly describe as "gorgeous."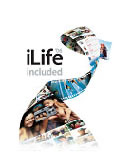 The breakdown on the UK prices are 2.0 GHz (80Gb H/D and slot-load Combo (DVD-ROM/CD-RW) optical drive – £699; 2.16 GHz White (120GB H/D and slot-load 8x SuperDrive with double-layer support (DVD+R DL/DVD±RW/CD-RW) optical drive) – £829; 2.16 GHz Black (160GB H/D and same SuperDrive) – £949.
All come with iLife '06 (until the new version comes out, we guess) and are available NNNNNNNNOOOOOOOWWWWWWW!