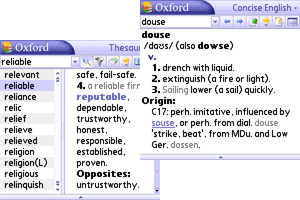 If you've ever found yourself flummoxed at meetings by high fallutin' hotshots impressing the boss with fancy words, or if your crossword solving skills are letting you down, MobiSystem's MSDict Concise Oxford English Dictionary and Thesaurus could prove a handy travelling companion.
Available in a host of OS flavours – including Palm, Windows Mobile, S60, S80 and Blackberry – the software bundle lets you stash away no less than 240,000 Words and Phrases and 365,000 alternative and opposite words on your smartphone.
We tested the program on the Palm Treo 650, with the 11 meg dictionaries installing to the SD card by default.
To save phone memory, we also used the excellent Power Run application to run the MS Dict Viewer off the card with no problems (you can also do this with launcher programs like LauncherX and ZLauncher).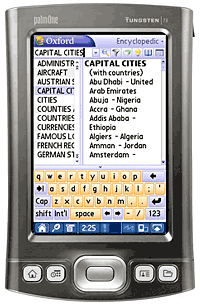 The viewer can also read other MSDict databases, so users can add other reference books and access them through the same interface.
Improved interface
Firing up the program we were pleased to see that the interface for the viewer had improved considerably over earlier versions, with a drop down menu letting users customise the layout from a choice of five designs.
Using the program was simple enough – queries are typed into a text box with a list of matches and near-matches dynamically updating below.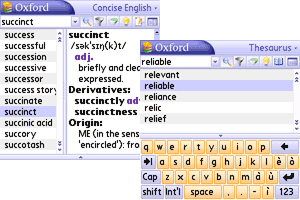 Clicking on a result in the list produced colour coded definitions, pronunciations, derivatives, usage notes and etymologies of the word in the right hand column, with the option to add new words and notes.
Related words were usefully hyperlinked, with a wildcard filtration feature letting you track down words easily (and cheat at crosswords, of course).
Not quite Treo-ised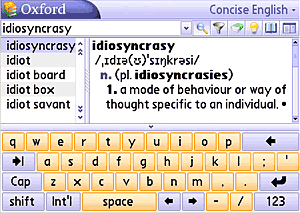 Although the app was easy enough to use, the interface wasn't fully compatible with the Treo's controller, so we occasionally had to pull out the stylus for some tasks – a minor irritation for Treo users used to navigating programs with just the five way pad.
Minor quibbles aside, the Concise Oxford English Dictionary and Thesaurus has already become a permanent fixture on our smartphone and something we find ourselves consulting regularly – and it was great to have propah British English words listed too!
The verdict
Features: 80%
Ease of use: 70%
Value For Money: 75%
Overall: 77%

MobiSystems $39.99