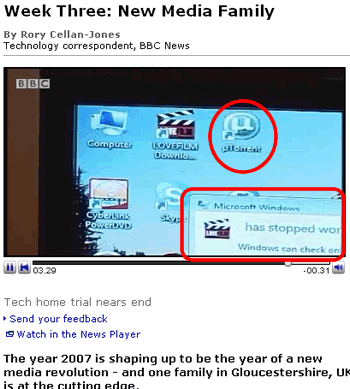 The BBC have been running three, weekly pieces reporting on the impact and progress of a four person UK family when starting to live their Digital- Lifestyles. So much so that they've got into Torrents already!
They been given a flat screen, Sky HD, Windows Media, Apple TV, Sono and the inevitable iPods (Apple must be rather chuffed). All of these bits have been linked together using a wireless network which is whizzing the data around for them.

How are they getting on with it?
The reaction of the Internet-delivered TV has been interesting. They say they like the idea of it – being able to get the content when they want – but have found that there's nothing on there that really interests them.
The husband said that he found the Apple TV really difficult to use at first, especially complex was linking it up with the iPods, etc, but now was getting on with it just fine.
While looking over the Media PC, it was of note that he said that they'd been it using more as a PC to browse the Internet, rather than a media centre, per se.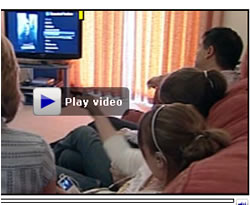 uTorrent, we all Torrent
We were amused to see that they are embracing the Digital-Lifestyle a little more than the content companies might like. uTorrents, an application that assists in the download of file torrents, was plainly displayed in the top of the PC screen.
Surely the BBC can't be condoning the downloading of copyright material in their 'experiment'?
(You'll also see from the screen grab, that in True Windows' style, the Lovefilm application has crashed!)