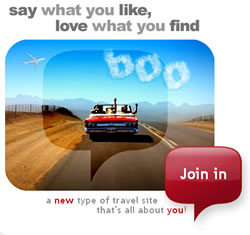 You can just imagine the cries of What!!! when we heard that boo.com was relaunching.
The first time around boo.com was at the peek of stupid behaviours in the UK Internet scene in the pre-bust days and its excesses are well documented. As we're sure you all know, they burnt through close to $160m in 18 months, trying to create a portal (as they were called back in the day) to sell clothes through. They went bust in 2000.
Well the FT covers the story (by someone with an infeasibly long name, Andrew Edgecliffe-Johnson) that someone has bought the domain and has launched a travel site using it – this time with the golden charms of Web 2.0. Does this harken the cry that Web 2.0 is just about to bubble burst?
Ray Nolan, the founder of Web Reservations International, who currently appear to be doing OK with €19m of earnings last year, pointed out to the FT that "It's catchy, and it works across languages." True enough – and the tarnish on the name might just have faded far enough to not be negative. Well, it got them in the FT and us writing about it, didn't it?