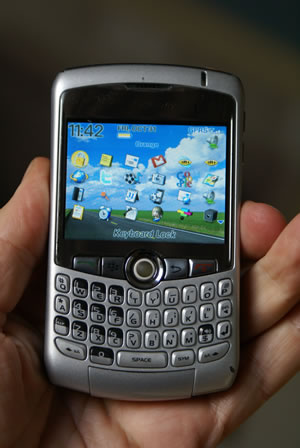 Following the announcement yesterday of the BlackBerry Curve joining the now apparently ever expanding range of BlackBerry devices, Vodafone have been in touch to let us know that they'll have it in the UK from 21 May.
The BlackBerry Curve looks pretty good from the shots we've seen. It's finished in what they describe as a liquid silver colour with chrome highlights, smooth edges and soft curves – a guide to where they got the name from?
BlackBerry are also pitching it as "the perfect balance between work and play."
New features are showing how the BlackBerry is becoming much more a consumer device, rather than just for business stiffs who feel it reflects they're important, how often they can check worthless emails being pushed at them by The Man.
One such is that the 2Mpx camera with 5x digital zoom, built-in flash and night mode, can share its pics with just one click using either email, MMS, or Bluetooth.