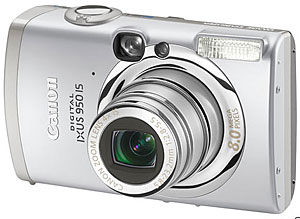 Continuing Canon's exceedingly annoying habit of giving new models different names in Europe and the US, the camera giant has announced its new PowerShot SD850 IS camera, offering Face Detection Technology and an optical image stabiliser.
Yes, we know it sounds – and looks – almost exactly the same as the Canon Ixus 850 IS we reviewed recently, but it is in fact a completely different model which will be released as the Canon Ixus 950IS over here.
We've no idea why Canon choose to keep confusing punters by selling the same cameras with different names, but the SD850IS replaces the camera known as the SD700 in the US. In Europe, this model was known as the Ixus 800IS.
The new camera (we'll call it the Ixus 950 from now on), offers a metallic three-tone metal finish with curved lines,
a 4x optical zoom lens, optical Image Stabilizer and Canon's DIGIC III image processor.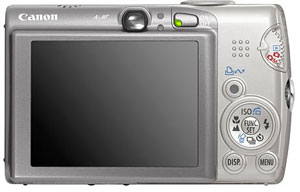 As is the vogue, there's Face Detection Technology onboard, with Canon claiming faster processing, advanced Noise Reduction and Red-Eye Correction.
Lurking inside its compact 90 x 57 x 26 mm body is an eight megapixel 1/2.5″ (5.8 x 4.3 mm) CCD sensor mated with a four times optical zoom lens offering a 35 – 140mm equiv range at F2.8 – F5.5 (we would have preferred the wider angle range offered by its namesake).
A fun Time Lapse Movie mode lets users make VGA-quality movie clips made up from photos captured at one-second or two-second intervals.
On the back of the camera, there's a large 2.5″ 230k "PureColor" LCD monitor which Canon say has enhanced scratch resistance (the Ixus 850 IS certainly scratched easily enough in our tests) and a tiny optical viewfinder.
The Ixus 950 comes with no less 18 Shooting modes including 'Creative Light' and 'My Colours' photo effects, ISO up to 1600, Auto ISO Shift and video support with sound up to 640 x 480 @ 30/15fps (or 320 x 240 movies at 60fps).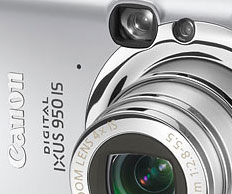 Canon have stuck to the trusty SD and MMC memory cards, with a rather miserly 32MB card bundled with the camera.
There's no news on pricing yet or when the camera will be released in Europe.
Powershot SD850 IS Digital Features:
8.0 Megapixels
4x optical zoom 35-140mm (35mm equivalent) UA lens with optical Image Stabilizer
Eye-catching design with Touch Control Dial
DIGIC III with Face Detection AF/AE/FE and
Noise Reduction Technology
Red-Eye Correction in playback
2.5" high resolution PureColor LCD
ISO 1600 and Auto ISO Shift
18 Shooting modes including Creative Light Effect plus My Colors photo effects
30fps VGA Movies and Time Lapse Movie function
Shortcut button for instant access to favourite functions