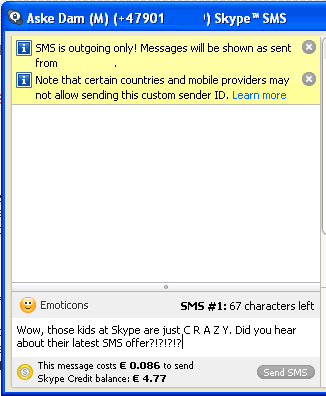 Those clever-types at Skype are trying to hook you into the habit of using Skype, not just for your spoken comms and IM, but for SMS to mobiles too.
The feature's been there for quite a while in the PC version and for slightly less on the Mac, but we guess they think that not enough people know about it yet.
They're using that old 'make it cheaper' ploy to attract your attention.
Until the 8th May, you (any Skype user, anywhere in the world) will be able to send SMSs via Skype for half their normal price to mobile owners in United States, Australia, Poland, Russia, Taiwan, Belgium, Thailand, Ireland, Austria and Italy.
How do you SMS in Skype?
Sending an SMS in Skype is a doddle, simply select a contact that has a mobile number stored in it and select the Send an SMS option.
It couldn't be easier really, could it? … and it gives the advantage of having a full-sized keyboard.