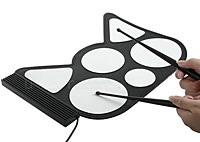 You can always rely on Brando to bring a smile to your face with some completely daft USB gizmo, and once again they haven't disappointed with the release of their USB Roll-Up Drum Kit and keyboard.
Ginger Baker on a mat
We can't imagine many people sitting at home and thinking to themselves, "You know what? I could really use a plastic roll up drumkit to hit", but if you are one of those strange people, prepare to get percussin'

The USB Roll-Up Drum Kit comes with six different pad areas which can be assigned different sounds by the included software.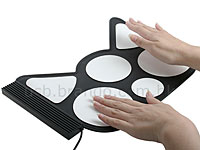 The kit can be played by hand (Mickey Finn style) or with the included plastic drum sticks which look about as sturdy as your Mum's knitting needles.
The tempo can be adjusted from an ambient 40 beats per minute right up to a thrash metal 208 BPM, with the kit coming with 50 percussion sounds, 20 preprogrammed percussion sets and 100 preprogrammed beats.
Complete newbies can rapidly rise from fumbling table top tappers to super slick mini Keith Moons, thanks to a "3-level" learning tutorial. There's also the option to annoy anyone within earshot by using a feature that lets you tunelessly bash away to tunes on your PC.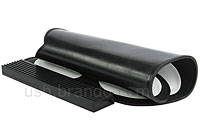 You don't have to restrict your annoying tub-thumping to just those around you either, as the program thoughtfully lets you record your own beats and then share them with long suffering friends via e-mail. Can you imagine the joy on their faces?!
The USB powered roll up kit is compatible with Windows XP/2000 and will you set you back a mere $42.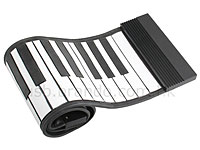 USB Roll-Up Piano
For impromptu Chas'n'Dave sessions, Brando have also released a USB Roll-Up Piano offering a 49-note velocity-sensitive keyboard with 8 percussion instruments, 128 non percussion instruments, 6 tones and 100 prerecorded rhythms.
There's good news if five people (or seven octopuses) want to play the one keyboard at the same time, as Brando are proud to announce that their "simultaneous 49 Key Activation" is a world first.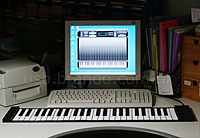 Powered via the USB port, the roll-up keyboard measures up at 75.5x16x0.4cm, weighs just 625g and is all yours for $46.