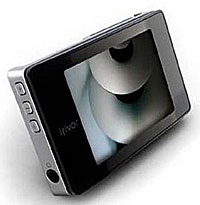 It's been a long time coming after being announced way back at CES in January 2007, but word is that iRiver's B20 is finally about to start shipping.
It's a lovely looking thing too, packing a ton of functionality into its diminutive dimensions, with the business end dominated by a 2.4inch 260,000 colour TFT-LCD display.
Inside there's a feast of techno-gubbins taking care of your every multimedia need, with the device ready and willing to play about with movies, music, pictures, videos, text and digital broadcasting.
There's support for MP3, WMA, OGG, AVI (MPEG4), WMV9, JPG playback, as well as an onboard FM radio with programmable FM recording, T-DMB recording, a voice recorder and alarm.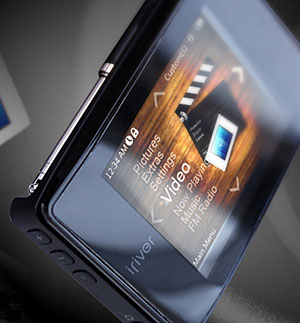 Battery life is claimed at up to 17 hours for MP3 playback, 4 hours for video, 7 hours for DAB, dropping down to just 4 hours for DMB (Digital Multimedia Broadcasting).
The player comes in 2GB and 4GB flash memory flavours and there's a Mini SD card slot for expansion.
Pricing should be around €164 for the 2GB version and €206 for the 4Gb jobbie.
Specs:
Display: 2.4inch 260,000 colour TFT-LCD display
Triple-band support (Band 3 + Band L + Analogue FM)
Frequency: 174MHz~240MHz(Band 3), 1.452GHz~1.492GHz(Band L)
1GB/2GB/4GB flash memory capacity, with Mini SD card expansion slot
Built in T-DMB recording
Integrated FM Tuner, voice recorder and alarm
Supported file types: MP3, WMA, OGG, AVI (MPEG4), WMV9, JPG
Battery life up to 17 hours (MP3), 4 hours (Video), 7 hours (DAB), 4 hours (DMB)
iRiver D-Click System navigation
Built in speaker