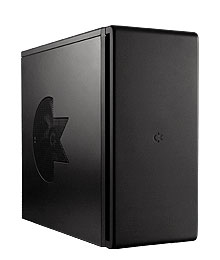 Commodore – a name sure to turn old skool gamers of a certain age all misty eyed and nostalgic – has released a range of high end gaming PCs.
The top spec'd Commodore GX and Commodore xx models will only be available from their online store, while the Commodore g and Commodore GS range will sold in retail outlets from May.
Sadly, the trusty old Amiga OS is nowhere to be seen, with all the machines running the Windows Vista operating system.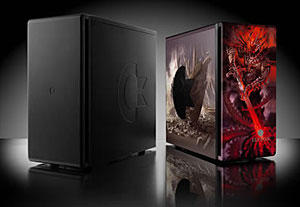 The top of the range XX model has a price tag sure to induce "Gordon Bennett!" exclamations, serving up a £2,900 baseline spec featuring an Intel Core2 Extreme Quad-Core processor QX6700: 2.66GHz 8MB Cache, ASUS P5N32-E NVIDIA nForce 680i SLI motherboard, 2x NVIDIA GeForce 8800 GTX 768MB SLI graphics cards, 2x 500GB 7200 RPM SATA Raid 0 hard drives and 2GB of 1066MHz RAM, running on Windows Vista Home Premium.
And that's without a monitor, keyboard and mouse and just a two year service and parts warranty.
For those with extra voluminous pockets, machine requirements can be customised further online, with additional options like a BluRay writer, extra RAM and bigger drives pushing the price into the stratosphere.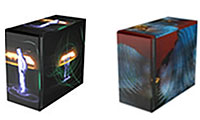 Mad for it gamers might also warm to Commodore Gaming's 'C-kins' designs which let users select one of a 100 flashy, scratch-proof, PC case paint jobs created using a patented dye process.
"We're extremely excited and proud to offer our range of exceptional gaming machines and since PC gaming and online gaming is about instant entertainment, this is what we intend to deliver with machines that will satisfy everyone from the casual gamer to the professional," piped Bala Keilman, CEO for Commodore Gaming.
Commodore says it plans to roll out a European store in mid May, accompanying retail outlets in UK, Germany, France and the Benelux.