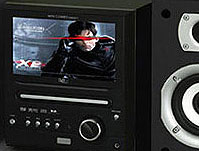 Not to be confused with the deceptively similar sounding (and far more famous) Yamaha brand, German tech company Yamada hope that their HTV-200XU home system will find a place in your bijou living quarters.
The bookshelf system manages to cram in just about everything you'll need for an all-in-one home entertainment system into a diminutive package, right down to a 7″ colour LCD screen on the front.
The all-black system comes with matching speakers (with removable grills for that macho 'top off' look), and comes stuffed to the gills with multimedia playback functionality.
The system sports a DVB-T tuner and analogue FM tuner, a DVD player that can handle just about every recordable format in town ( DVD, DVD R/RW, DVD+R/RW, CD and CD-R/RW) and even offers 5.1 Sound System output backed by S-video, video, stereo and digital coaxial line-outs.
The HTV-200XU can also keep you entertained with support for DVDs, JPEG photos and videos in DivX and MPEG-4 formats – and it can rip CDs too.
Boasting a fairly reasonable 30 Watts RMS output, the Yamada HTV-200XU also has a USB port for hooking up to your home PC or MP3 player, with the whole caboodle setting you back 220 Euros.
While there's no denying that the Yamada comes with enough groovy functionality to get our little nerdy hearts skipping a beat, we're not entirely sure we'd want one. After all, who'd want to watch a DVD at home on such a squinty screen?