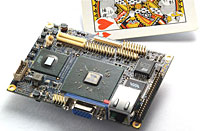 Taiwanese chipset manufacturer Via Technologies has released a motherboard so teeny-weensy that it could almost fit in a box of playing cards.
Via claims that their VT6047 Pico-ITX form factor motherboard is the smallest fully-featured x86 mainboard in the known universe, and we certainly haven't seen anything smaller.
Although motherboards may not be the sexiest piece of kit around, creating a board as tiny as this little puppy opens up a world of possibilities for ultra-compact PC systems and appliances.
The Pico-ITX 'board measures up at just 10cm x 7.2cm, and is around 50 per cent smaller than the previous 'smallest motherboard' title holder, the Nano-ITX form factor.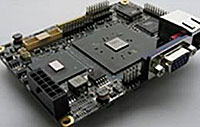 The pint sized motherboard is designed to be powered by one of Via's energy efficient processor platforms – like the Via C7 or the fan-free Eden processor in the 21mm x 21mm nanoBGA2 package – with the resultant combo delivering a hefty clout into a low heat, low power, ultra-compact package.
"The Pico-ITX represents Via's commitment to spearhead x86 innovation through our proven technology leadership in driving down the platform size," purred Richard Brown, vice president of corporate marketing at Via.
"As with the Mini-ITX and Nano-ITX form factors before it, this new platform has raised the excitement level among enthusiasts and customers alike, firing the imagination an almost unlimited range of what were previously impossibly small systems," he added.
Consumer PCs built around the Pico-ITX form factor motherboard are expected soon.