Flash memory maestros Sandisk have announced that they're hooking up with Yahoo Music Unlimited To Go to provide a service that lets music fans fuel up their music players wirelessly.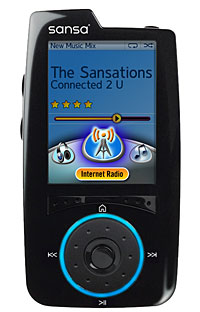 After connecting the Sansa Connect media player to the Internet via Wi-Fi, users will be able to listen to LAUNCHcast Internet radio, rummage through Flickr photos and check out what Yahoo Messenger friends and nearby Sansa Connect owners are grooving to.
Meandering music fans will also be able to access Yahoo's free music services or connect to Yahoo Music Unlimited To Go subscription service to download tunes to their players, without the need to connect it to their home PCs.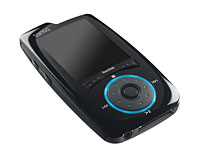 "We see this as a very strong partnership with Yahoo," purred top SanDisk marketing bod Eric Bone, adding that he saw his company progressing from "fast-follower mode to a technical-leadership mode" in a market still dominated by the ubiquitous iPod.
The attractive 4-gigabyte palm sized player comes with a bright 2.2″ screen, a tactile scroll wheel, a microSD slot and a built in mono speaker for sharing the music with (quiet) friends. There's also a slightly strange looking stubby antennae for the wireless connectivity.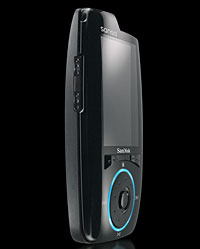 As well as wirelessly connecting to Yahoo's Music service, the Connect supports MP3s and DRM WMAs provided by other services like Rhapsody, but you'll have to get out Ye Olde cable to transfer the music from your desktop.
The Sansa Connect is set to retail for around $250 in the States. We haven't heard any news about UK pricing/release dates yet.
It looks like it's a beauty and we're looking forward to getting out hands on it.