LG have signed a deal with Google to put some of their mobile services pre-loaded onto its handsets.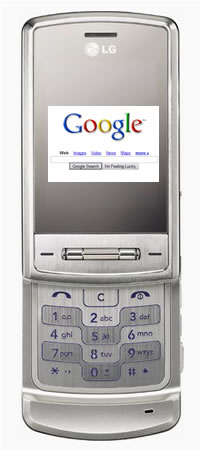 LG have committed to release at least ten new mobile phone and will jointly market them as LG-Google handsets.
The apps covered by the deal are Google Maps – which lets people view maps and satellite imagery, find local businesses, and get driving directions, Gmail – the Java-driven, mobile focused version of their email service and Blogger Mobile – which, err … lets you blog while on the move, using images taken from the mobile phone.
Mr. Paul Bae, Vice President of the Product Planning Team at LG Electronics Mobile Communications Company really wants us all to know that "LG's mobile devices, combined with Google, will provide consumers with easy access to their favourite Internet services even without a PC and make it easy for them to stay connected while in motion." Wooo!
As we know LG don't just do mobile phones, but a whole panoply of electronic bits, with a major focus on the home, so it's interesting to hear from LG that they'll be extending their relationship with Google to "develop digitalized home in the future."
The financial terms of the deal were not revealed, indeed it's unclear if LG will be sharing the income Google will derive from its advertising.
LG are being a little tarty about this. It's not too long ago (end of 2006) that they signed a deal with Yahoo to pre-load Yahoo! services, including Yahoo! Go for Mobile 2.0, Yahoo! Mail and Yahoo Messenger on many of its mobile phones. Clearly that wasn't an exclusive deal and it will have covered different handsets we imagine.